JAMIE LEE WILSON 'WOULD NOT CHANGE A THING' !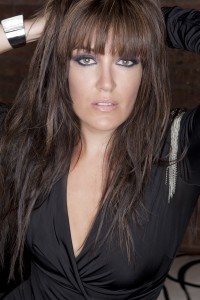 Jamie Lee Wilson's new release with Soul Conspiracy  (Diskodude Remix)"Would Not Change A thing' has taken the #1 spot this week on The Gold Coast's premier dance station Radio Metro 105.7.
It seems nothing is standing in the way of this phenomenal singer as she dominates the club floors and charts across Australia, New Zealand and International waters.
Celebrity clubbers and international DJs have been mesmerized by the magnetic vocals and stellar performances of Jamie Lee Wilson. This Australian talent has been wowing audiences with her electrifying gigs on the London, Russian, Australian and European club scene. Jamie Lee has crafted a niche brand of her own – energetic vocals teamed with electro beats to make electronic dance magic. Upcoming collaborations with David Guetta's singer, Chris Willis, Legendary house producer, Ron Carroll and recent performances at this years Creamfields and Summafieldayze festivals, only drum it loud that Jamie Lee Wilson is the one to watch.

Jamie Lee also presents her own radio show, 'Just Wanna Dance' on 105.7 Radio Metro, focusing on the singers in the world of dance music. 'Champagne Nights' with the Stafford Brothers out on Hustle/Ministry of Sound now on "Electro House Sessions 4" – Number 1 on iTunes and number 6 in the Aria Compilation Album Charts. As well as "Keep Believing" (recently signed to Cr2) being added to the Dance Aid compilation on iTunes, and Would Not Change a Thing" is currently at number 1 in the Radio Metro charts and being played in New Zealand, Berlin, Canada and all over Australia. "Can You Feel Me" with DJ Gemstar which peaked at number 5 on the Radio Metro chart, also being played in Canada, New Zealand and across Australia. ". Most recently, Jamie Lee signed a single she wrote with Baggi Bagovic and Robbie Taylor to Erick Morillo's label, Subliminal.
Upcoming international collaborations with Chris Willis (USA), Ron Carroll (USA) The House Moguls (USA), John Dahlback (Sweden), Baggi Begovic (Netherlands), Angger Dimas (Indonesia), Sebastien Lintz (Netherlands), Cosmic Gate (Germany), Bimbo Jones aka Lee Dagger (UK) and home grown beats with The Stafford Brothers, Tommy Trash, Tom Piper, Rob Pix, Darren Glen, Chardy Mthree, Nordean Wahid, Neon Stereo, DJ MaRlo are guaranteed to ensure Jamie Lee is on a stella rise to the top!
For Further information on Jamie Lee Wilson performing live  in New Zealand contact Tiffany
For Australia and International Bookings contact Jon "the Boss" Hanlon