HERBS ACOUSTIC AUSTRALIAN SHOW DATES NOV 2014
It all began with a bunch of friends in a garage in South Auckland playing acoustic guitars.
And from those humble beginnings rose Herbs, one of New Zealand's and the Pacific's most loved bands. Kiwis abroad and Australian lovers of the Pacific reggae sound now have the chance to witness up close the powerful songs that made Herbs famous as Herbs Acoustic pays a visit.
Herbs Acoustic, comprising of three of long-time members, offers the opportunity to experience Herbs in their unplugged format, stripped back as it was in the beginning and presenting the true essence of their sound, and reviving their much-loved songs in an acoustic format with clear, uncluttered vocals and unmistakable harmonies.
Since the 1980s Herbs' special sound has endured, defying changing times and musical fancies. Not only has the band made an outstanding contribution to New Zealand's musical history, earning a place in the NZ Music Hall of Fame in 2012, it also marked NZ history with songs that raised and championed social and political issues.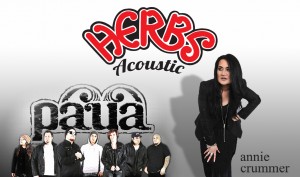 Joining them for this tour is former 'When the Cats Away' and 'Ladykillers' member Annie Crummer. Brian May of Queen once dubbed her "The voice of one in a million." The double-platinum, and gold-selling artist has supported Michael Jackson, Sir Paul McCartney, and Ray Charles, and was awarded a Lifetime Achievement Award at the 2011 Pacific Music Awards.
Delivering the magic of their full 7 piece live band experience is Brisbane's PAUA! Celebrating the success of their #1 release of the REM classic 'Losing My Religion' on both the Australian and New Zealand iTunes reggae charts, 'Feel the Fire' and the cruisy single ,'Crazy Bout You, along with sharing the stage with reggae giants 'Katchafire,'1814', 'Julian Marley', 'The Green' at festivals and shows around Australia and New Zealand. PAUA, LIVE are not to be missed. Infusing sweet harmonies, melody and deep grooves to create a unique Soulful/RnB/Rootz Reggae sound that entrances and enthrals all ages.
The magic combination of Herbs Acoustic, Annie Crummer and PAUA ensures a night of spellbinding musical entertainment. "
FACE BOOK EVENT:
The Hifi Sydney Friday December 12th
The Cooly Hotel Saturday November 22nd
TICKETS:
The Hifi Sydney
The Cooly Hotel
ARTIST WEBSITES:
https://www.facebook.com/HeartlanzEntertainment
http://www.anniecmusic.com/
http://pauamusic.com/
http://www.youtube.com/user/pauamusic
HERBS YOU TUBE LINKS:
Sensitive to a Smile
Long ago