JASON ELI 'MUSIC IS LIFE' feat KEVIN MARK TRAIL
After his long standing residency at Ministry Of Sound, Jason Eli (GROOVADELICA) follows up his radio hit "That's Right" by joining forces with The Streets' vocalist Kevin Mark Trail to create "Music Is Life".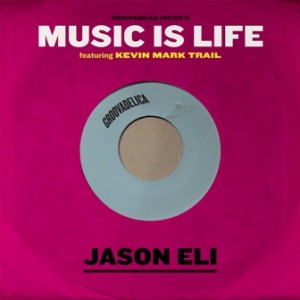 This track has echo's of Bob Marley, with flavours of Soul, UK Garage and Breaks. Dedicated to those who live for music.
It is currently no.3 in the Serato whitelabel.net worldwide DJ download chart, with more than 700 Serato DJ's worldwide confirmed to be playing it! It is a tune made for people who love to dance to warm and heavy bass out in the open…!
DJ reactions so far RIA : "A banger!" Aquasky : "Love the vocals" Greg Churchill: "I love this track!" Omegaman : "DOPE track" Mr Chombee "This is great man. Part Thievery corporation, part Ghetto Bass
"Music Is Life is very energetic and easy to dance to. Kevin Mark Trail's crisp and simple vocal arrangements are easy enough to sing along with that listeners can instantly connect to it. This is a great collaboration, and I'd recommend it to fans of both Reggae and EDM music."
I Am Entertainment Magazine (USA)
""This is one soulful track from the breakbeat to the vocals. Only the best from Jason Eli" –
Nerdy Frames (NZ Blogger)