KINGS & GENERAL LEE 'TRANSACTION EP' RELEASED
Respected NZ DJ GENERAL LEE from ZM'S MINISTRY OF SOUND  show joined forces with  ARCH ANGEL RECORDS Boss KINGS and the result is the EXPLOSIVE DANCE FLOOR EP…
'TRANSACTION' (ARCH ANGEL RECORDS)
The EP fuses genres from Electronic Dance and Trap influences.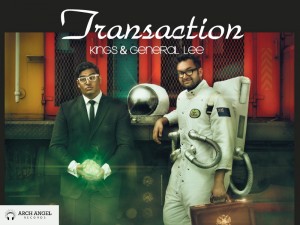 Track 1 is the huge anthem 'AINT COMING DOWN' Netsky influence and features not only their fine productions skills, but Kings vocals and sweet guitar skills. Renowned NZ dance radio station Gerogre FM has picked up the tune and added to their playlist.
Next is the call to dance floor action with a dirty synth line saturated in 808 kicks 'LET ME SEE YA.
The 3RD track is the grimey gutter bass with trippy melodies destined to jet you off on good times  'LAUNCH', and finally Track 4 is the crowd amping Trap Track 'NEVER KILL US'.
TRANSACTION is released through Arch Angel Records and is available now on Beatport, itunes and more globally! This is just the beginning for these 2 crazy producers, with so much more to come…As they say  at Arch Angel Records 'If you want to fly, you have got to have your WINGS OUT!
A very special thank you to the amazing Mardo El-Noor for creating the EP photographic artwork. uROk!
LISTEN TO 'TRANSACTION' HERE..
The guys will be releasing their Auckand launch date soon…stay tuned for details!