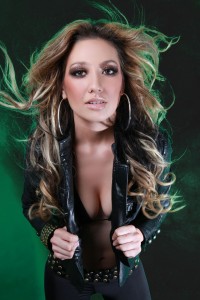 DJ TUINI Qld #1 Female DJ & Reality TV Personality on "The GC" is heading back to NZ FEB/MARCH 2014!!
DJ Tuini's last tour of NZ in 2012 was a success with SELL OUT shows across New Zealand! She is very excited to be heading back across as the new season of THE GC begins on NZ's TV 3. DJ Tuini will be in the country on a press tour and has a couple of shows locked in while she is here. If you would like her to come and work her magic at your venue, we have dates available for her to perform at your event and also 'meet and greet' opportunities for her fans.
Performing to thousands of party goers weekly, DJ TUINI knows how to build a dance floor and keep on rocking it until close! It's the combination of the right tracks, seamless mixing, industry tricks and crowd support. Having worked her way up through the ranks, DJ TUINI is now known as QLD's No.1 FEMALE DJ with regular residencies held at one of QLD's largest operating RNB NIGHTCLUBS, MAGIC CITY.
Fast forward to now, and DJ Tuini is no stranger to the spotlight. Well known amongst the Australian RNB circuit, she has played for after parties and concerts with the likes of Chris Brown, Rihanna, Usher, Trey Songz, Eve, Fatman Scoop, and many more!
Looking to expand her horizons, she most recently starred in a reality TV show called "The GC"… which aired to record-breaking ratings on TV3 New Zealand, and now airing on Channel 11 in Australia.
"I love the performing", she says. "That feeling of working really hard to get a crowd exactly where you want them, and creating that night they'll never forget. I don't like defining myself by a genre. Of course I will never forget my RNB roots, but as far as I'm concerned – if it makes them dance, I'll play it."
AVAILABLE DATES:
Friday 28th Victory Social Club Palmerston North / Saturday 1st March Stellar Wanganui
Thursday 6th Available / Friday 7th March Booked Hangar Bar /Saturday 8th March Carpark Nightclub
For DJ Tuini artist bookings and interview/ media enquiries in NZ contact Tiffany Judge tiffany@theconnector.biz
For Management enquiries contact Leah Styles:
leah@shi.net.au